Women in Agriculture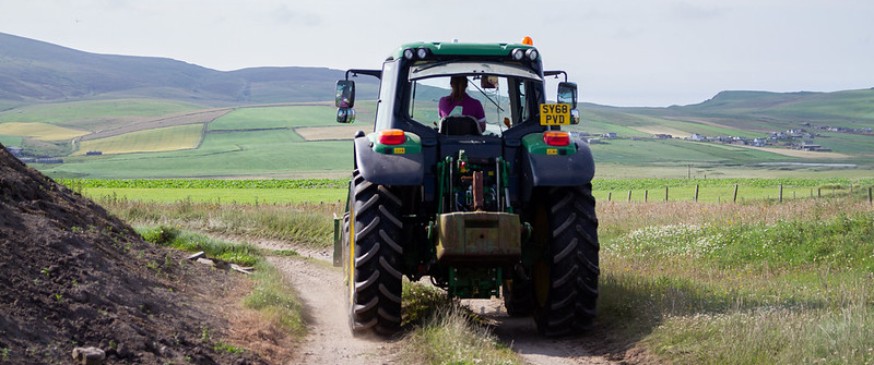 Women in Agriculture: Our Vision
Our vision is for Scottish agriculture to become a fairer, more inclusive industry, where farm succession is not determined by gender, training is accessible to everyone, and more women take on senior roles in agricultural organisations.
By ensuring equality of opportunity and that we use everyone's talents, we will help to make Scottish agriculture a more resilient and economically sustainable industry.
Is this for you?
Are you a woman living or working in Scottish agriculture? Maybe you see yourself as 'just a farmer's wife'; perhaps you're a partner in a large farming business; maybe you own a croft or smallholding; or you might work for an agricultural organisation?
Whatever your role or connection to Scottish agriculture, there are training courses and networks available to you. We want to help you develop your talents, pursue your business goals and achieve your full potential.
Why women in Agriculture?
We know that women have always been an integral part of Scottish agriculture. The industry could not survive without the contributions of women; whether working on farms, crofts and small holdings, supporting their families, or being involved in the wider rural economy.
However, research on the farming sector (2017) showed that women's work can often be undervalued, downplayed, or simply unseen. We want to change that.
A progress report on research conducted as part of the Women in Agriculture (WIA) programme between 2020 and 2021 has now been published. The report covers a range of topics and presents overall findings, current work and outlines future research planned for 2021-2022.
We believe that Scotland's rural economy will be even stronger when women are enabled to fulfil their potential and have equality of opportunity within Scottish agriculture.
Support for Women in Scottish Agriculture
Scottish Government has committed £300,000 per year until 2024/25, to support women by implementing the recommendations of the Women in Agriculture Taskforce.
Upcoming training
BE YOUR BEST SELF – Applications are now open for courses in 2022!
Scottish Government is funding another series of Be Your Best Self courses, taking place over the next two years. The courses, which commenced in October 2021, will continue throughout 2022 - 2023 and will be delivered by The People Portfolio, who said:
"We're delighted to be delivering the Be Your Best Self personal development programme for Women in Agriculture, building on the success of last year's pilot programme. Working with our partners; Leeway, Mind & Mission and Scene & Herd PR, we combine expert personal development facilitation, mental fitness support and in-depth knowledge of Scottish agriculture to create an impactful and supportive experience. We are very much looking forward to supporting the Scottish Government with their aim to increase opportunities for women in agriculture."
We aim to make our training as accessible as possible and over the next two years, courses will be delivered both online and in-person (when face to face training can safely resume).
If you have any queries please contact us by e-mailing beyourbestself@thepeopleportfolio.co.uk.
Are you a woman living or working in Scottish agriculture?
Do you feel like you need to re-focus on your life goals?
Do you want to build your confidence and discover the true value of your skills and strengths?
Are you looking for new opportunities and possibilities?
Would you like to connect with other women in Scottish agriculture?
Apply now for one of our Be Your Best Self courses: personal development training for women in agriculture.
C3: 25 April 2022
C4: 11 May 2022
C5: 23 Aug 2022
C6: 24 Oct 2022
C7: 6 Jan 2023
C8: 10 Feb 2023
C9: 30 March 2023
Course attendees have said that Be Your Best Self: 'is life-affirming'; ' has given me a renewed sense of vigour and hope for the future'; 'is a completely new way forwards, finding yourself and coming home'.
Following on from Be Your Best Self, we are developing courses in business skills and in leadership development for women in agriculture.
The Farm Advisory Service is also running knowledge transfer events for women in agriculture. Find out what is on and sign up here.
Island Impact Assessment Screening for the Women in Agriculture Development Programme
The Scottish Government have carried out an Islands Impact Assessment to ensure that women living or working in Scottish agriculture in island communities have equality of opportunity to participate in the Women in Agriculture Development Programme.
The Women in Agriculture Development Programme will implement a range of measures focused primarily on training, to enhance and develop the potential and opportunities for all women living or working in Scottish agriculture.
More information can be found in the Island Communities Impact Assessment.
Blogs
Animal Health Officer, Hazel Mackenzie blogs about the Be Your Best Self course and learning that it's okay to demonstrate your vulnerabilities and how it is a sign of strength, not weakness.
Crofter Shona Grant-Mackintosh blogs about her experience of attending the Be Your Best Self course.